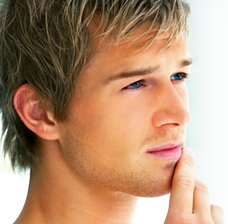 The Male Grooming Lounge helps you keep your facial skin clean and in good health, using Pharmagel products range revitalises the skin in a truly natural way, using only plant extracts and essential olis. All my facials include Cleansing, Toning, Peeling with a gentle exfoliant cream, sea mist spray, face massage with therelevant relaxing creams and serums. Then the relevant face mask is applied (depending on the therapy chosen). Each facial is completed with light massage with vitality cream and eye creams and gels.
We offer Mens skin care for all skin types and conditions. When visiting the salon, a professional beauty therapist will analyse your skin condition and determine which treatment is best for your individual needs - as each facial has different active products to help with individual skin conditions.

We offer a range of facials for all skin types and conditions. Each facial consists of a double cleanse, an exfoliant (to get rid of dead dull skin) a face, neck and shoulder massage, facial steam, followed by a mask.

Express Cleansing Facial Treatment - 30 minutes
This holistic treatment offers deep cleansing and exfoliation and combats daily aggressions such as shaving.
£25.00
Deeply Energising Facial Treatment - 1 hour
This tension relieving aromatherapy treatment can be individually tailored to meet the needs of all skin types, combining massages to the back, face and shoulders with specific face masks to suit your skin type
£40.00
Microdermabrasion Facial Treatment - 1 hour
Microdermabrasion is a non-chemical, non-invasive deep cleansing skin procedure that buffs away dead skin cells, clears out pores and promotes new cells with higher levels of collagen and elastin leaving your skin looking younger and healthier. The procedure itself takes 25 to 50 minutes and utilizes a diamond head tip that helps remove toxins and increases blood circulation. When we are babies our skin is renewed extremely fast, but due to natural aging the process of renewing skin can take months. This is where microdermabrasion helps – it renews your skin. With dead skin cells buffed away and pores opened, your face now allows for greater penetration of vitamin-rich serums/ creams that help promote and boost your skin's health, leaving your skin looking fresher and brighter. type
£55.00